/ 8 votes – 6645 downloads
Updated 2011-01-16 19:20 UTC –
Stable Quality
Free & Open Source license

Biloba is an abstract strategy board game for 1 to 4 players. At each turn the player moves pawns on a octogonal shaped board (but squared cells) trying to remove opponent's pawns from it. It includes an AI opponent for single player mode, and supports local or network play for 2 or more (up to 4) players.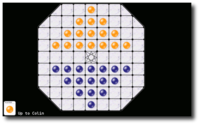 Links
Changes in version 0.8-3
Fix icon in tasks list.