/ 1 vote – 3 downloads
Updated 2011-10-08 04:20 UTC –
Stable Quality
Free & Open Source license
Features :
undefinite, definite and numerical integration;

integrals in 1, 2 and 3 variables;

5 simplification methods for non-numerical
results;

3 numerical integration methods and arbitrary number of digits;

result with zoom levels and different colors;

7 output types : simple, bidimensional, LaTeX, etc;

copy&paste available in all entry fields and also in the result;

history and line completion editing.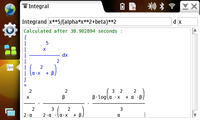 Links
Changes in version 1.1.3-diablo2
Integral 1.1.3 (06/10/2011) :
1st release for Maemo 4 Diablo;

using SymPy 0.7.1 (07/2011);

time to load is approx. 20 seconds on Nokia N810.