/ 8 votes – 259 downloads
Updated 2009-12-27 20:45 UTC –
Stable Quality
Free & Open Source license
Simple tile map
Maep is a tile based map utility for services like openstreetmap, google maps
and virtual earth. This is the same map renderer that's also being used by
GPXView and OSM2Go. Maep is meant to easily be included into other programs
and to become a universal map widget for the Maemo5 platform.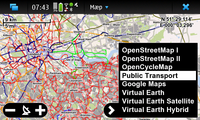 Links