/ 3 votes – 27 downloads
Updated 2011-05-14 11:00 UTC –
Stable Quality
Non-free license
Bring web content into your homescreen
Oculo is a home widget which brings web content into your N900 homescreen: it
can render web pages as well as sub-elements of web pages into a home widget,
periodically updated.
It's ideal for having always up-to-date news, stock market quotes, sport
results, wheather forecasts, public transport timetables, comic stripes, etc.
always visible when you glance at your N900. The options are only limited by
your imagination.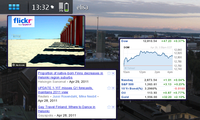 Links