/ 16 votes – 45354 downloads
Updated 2012-02-03 18:20 UTC –
Stable Quality
Free & Open Source license

Allows you to use "sudo gainroot" without having to enable RD-Mode.
There is also an simpler "root" command which correctly sources the root .profile and environment.
There is also an rootsh command which allows you to quickly run a command on the same command line without using a root shell (like sudo)
You can find this package as rootsh in the diablo and chinook extras.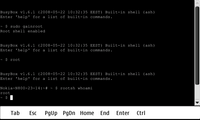 Links
Changes in version 1.8
Section changed from user/accessories to user/tools.
Added conflict with GodMode package.
Removed feature of rootsh command to spawn a shell. The user can still spawn a root shell by typing root.