/ 0 votes – 0 downloads
Updated 2012-09-22 18:16 UTC –
Stable Quality
Free & Open Source license

SIM-Switcher, automated switching with a double (dual) SIM adapter.
Ease the task of switching the active SIM on a double (dual) SIM adapter. Your adapter needs to support the so-called "007" mode, i.e. switching via phone code.
Furthermore it is possible: to define the cell mode, to change the connection policy, to connect automatically to a pre-defined IAP and to en-/disable call forwarding … before switching (current SIM) and … after switching (to-be-switched-to SIM).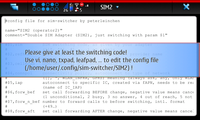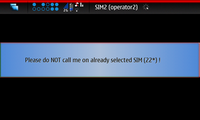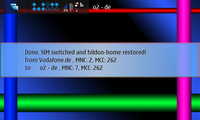 Links
Changes in version 0.5.12-0
Bugfix: reordering and online check for activities after switch (so now cell mode selection and internet works more reliable).