/ 1 vote – 28 downloads
Updated 2010-05-02 20:15 UTC –
Stable Quality
Free & Open Source license
Oddly attractive ball tossing game.
The game objective is very simple. Catch the falling balls by the wok (a
flying pan) and throw them to the right. To earn more score, you should
throw many balls continuously. Collect many balls on the wok, and throw
them at the same time., If a ball falls to the lower end of the screen,
the game is over.
For more see: http://www.asahi-net.or.jp/~cs8k-cyu/linux/wok_e.html.
The game is Copyright 2001 Kenta Cho. All rights reserved.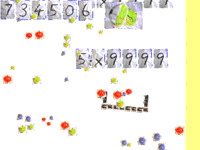 Links