/ 1 vote – 6 downloads
Updated 2011-02-09 17:15 UTC –
Stable Quality
Free & Open Source license
Home-desktop widget for quickly changin the max CPU's clock.
Work only with Titan's kernel.
Since version 0.1.6-0 the package asks for confirmation to the frequencies 700, 850 and 1000 MHz.
Changes will not remain after a reboot.
Remember that the intensive use for extended periods of CPU clock frequencies exceeding 600 MHz could be dangerous.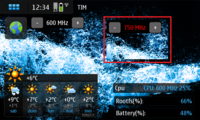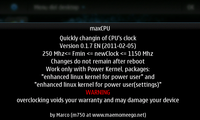 Links