/ 0 votes – 0 downloads
Updated 2010-07-27 17:00 UTC –
Stable Quality
Free & Open Source license
a word trainer with more than 150 ready made vocabularies
Querymee allows you to train languages and to memorize things.
At the moment just multiple choice is supported, but so called
flash card learning is planned.
As file format KDEs kvtml XML format is used,
so you can easily edit and create your own files with
Parley (http://edu.kde.org/parley/) or KWordQuiz
(http://edu.kde.org/kwordquiz/). Other file formats are planed.
Save your own or downloaded kvtml files under under
/home/user/MyDocs/Querymee in your N900.
You can use ready made kvtml files from the KDE project
(more than 150 are available), just download the files
with the build in download dialog.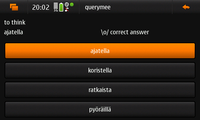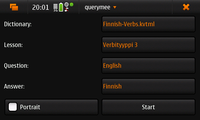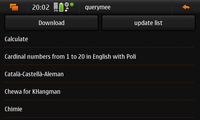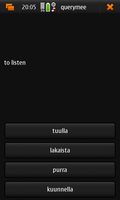 Links