/ 5 votes – 18285 downloads
Updated 2010-08-16 13:15 UTC –
Stable Quality
Free & Open Source license
Time Workshop – highly customizable timers.
This is an utility to create custom watches and timers.
Only stopwatch and countdown timer realized at this time, but a whole lot of features is on the way.
Current features (v0.3.1):
* Any sound file supported by the system can be used as timer alarm.
* The time display precision can be changed from hours to milliseconds.
* Countdown timer can be set up to 24 hours. Stopwatch's limit is much further then the computer's.
* Preset buttons: some or all settings can be saved to quick buttons and used by a single click (or tap).
* Marks list shows saved stopwatch times and time elapsed from the previous mark with editable comment.
* The marks can be saved to a file (CSV, HTML or XML).
* Extra layouts can be selected in the settings dialog.
* Maemo version pauses Media player on alarm and resumes the playback after it.
* In desktop version timer window can be transparent and stay on top of other windows.
* For advanced users: timer layout and style can be defined in a special file.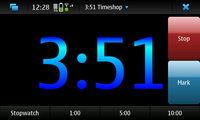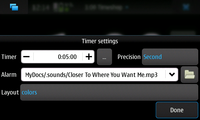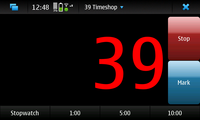 Links